Pros And Cons Of A Butcher Block Countertop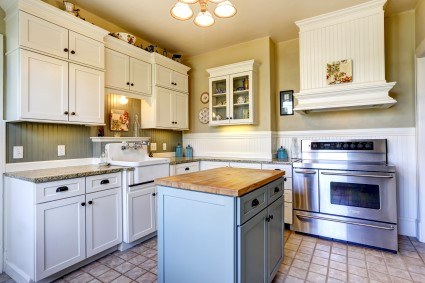 A butcher block countertop can offer lots to love in your kitchen. At the same time, it can offer some things that you might not love quite as much. If you're not sure whether this countertop option is right for your home, you need to learn the pros and cons that it has to offer.
Fortunately, we've compiled a quick list of the major draws and drawbacks that a butcher block countertop can bring to your Brentwood home's kitchen. By knowing what those pros and cons are, you can be sure you'll make the best decision regarding whether to invest in this installation.
Butcher Block Cons
We won't waste your time by detailing why you should get a butcher block countertop only for you to get to the end of this thing and find the one reason why you would never get one. So, we'll go ahead and open with the downsides that this countertop option has to offer:
Requires Routine Maintenance - Do you like to set it and forget it where your home's installations are concerned? If so, you might want to look to an option besides a butcher block countertop. Requiring routine maintenance and sealing treatments, this countertop option is not for the kind of homeowner who doesn't want to fuss with things.
Accumulates Scratches over Time -The great thing about a butcher block countertop is you can work directly on it. The bad thing about doing this is your countertop will accrue scratches as scars over time, causing its appearance to suffer. Keep this in mind if you prefer to maintain a meticulous kitchen.
Butcher Block Pros
Were those downsides too much of a downer for you to bother with a butcher block countertop? If not, then we promise you'll find much more to love with one. After all, a butcher block countertop offers the following wonderful pros:
Provides a Sustainable Countertop Option - More and more these days, people are trying to reduce their carbon footprints. A great place for you to start in that direction is right in your kitchen. Butcher block countertops are made from natural woods, making them a more eco-friendly option than their plastic counterparts.
Has Anti-Bacterial Properties - Your kitchen should be clean and free from harmful bacteria that can get into your food and cause a host of health problems. If you're looking to keep your kitchen free of these harmful bacteria, you should get a butcher block countertop. You can get a sealer for it that will prevent harmful things from making themselves at home in it.
Adds Beauty and Value to Your Home - Your kitchen should one of the more beautiful rooms in your home, and you can make it look its best with stunning butcher block countertops. In addition to adding beauty to your home, these will also add value, making them a great investment for down the road.
Get Your from Our Experienced Team
So, now that you know all the good, bad, and ugly that a butcher block countertop has to offer, does one sound right for you? If it does, you need to call MasterWorks Custom Cabinets today. Our custom cabinets company will outfit your Brentwood home's kitchen with a stunning, high-quality butcher block countertop that you'll enjoy for many years to come.