Enjoy a Pioneer Charm with Rustic Furniture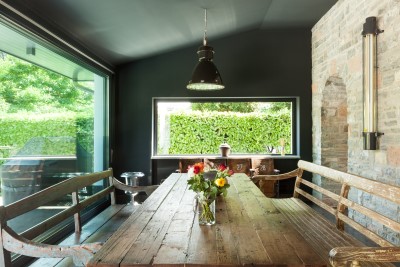 Your home is as much a reflection of your personality as the car you drive and the clothes you wear, so you need to make it a strong and accurate reflection of you.
And if you appreciate an earthy, pioneer aesthetic, you can't go wrong with rustic furniture. Furniture that proudly boasts inconsistencies and what you might call "imperfections" adds inimitable character to your home, making it uniquely you!
If you want rustic furniture to define your home and personality, call MasterWorks Custom Cabinets. With our experience and resources, we can provide you with beautiful custom rustic furniture!
NO TWO PIECES ARE ALIKE
The beauty of rustic furniture comes from what's considered unappealing in other kinds of furniture -- that is, the inconsistency in some of the design. This beautiful inconsistency comes in a number of ways:
Natural Cuts of Wood

Many rustic pieces are formed from natural cuts of wood that leave natural curvatures and indentations you otherwise wouldn't expect in furniture.

A Distressed Look

Rustic furniture often has a distinct "distressed," or worn, look. This look comes from deliberately "careless" staining and sanding that give every rustic piece an authentic look.

Creatively Repurposed Items

Not all rustic pieces are made from just wood. Some can be cobbled together from repurposed items such as trucks, further helping to make your home unmistakably yours.
THE PIECES ARE SUSTAINABLE
Many modern pieces of custom furniture are constructed with plastics and metals and other non-sustainable materials. But most kinds of rustic pieces are made from natural, sustainable woods, making rustic pieces good for the environment.
your home should look beautiful, but what's a beautiful home without a beautiful earth for it to live on? It's nothing. That's why we need to all do our parts to keep the earth going strong for as long as possible.
And a great way to keep Mother Earth healthy and happy is to have your custom furniture made from sustainable material such as wood. If you choose rustic furniture for your home, you'll get the most beautiful home possible while also helping to lower your carbon footprint!
CALL MASTERWORKS FOR QUALITY CUSTOM RUSTIC FURNITURE
If you want to enjoy the great benefits that rustic furniture offers, call MasterWorks Custom Cabinets to custom-make that furniture for you. We have the skills, experience, and resources to provide you with the best custom rustic furniture around!