4 Ways to Add a Rustic Charm to Your Home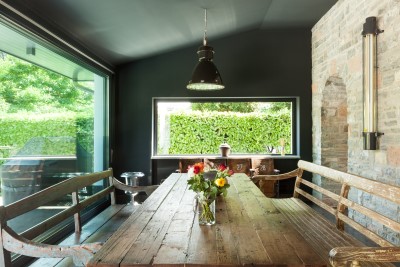 There are many ways to decorate your home: modern, classic, vintage, etc. But one of the best and boldest ways to decorate your home is by giving it a rustic look.
If you would like to get that rustic look for your Brentwood area home but aren't sure where to start in the process, read on. We'll tell you 4 great, all-encompassing ways to get your home to pop with rustic charm.
DISTRESSED WOOD
For the most rustic look, you can't go wrong with distressed wood. Artificially distressed wood won't lose any of its durability and longevity, but it will provide the "lived-in" look that you should expect from authentic rustic decor.
BARN DOORS
You don't need to own a farm to enjoy beautiful barn doors. Barn doors add an impressive elegance and beauty to your home while also upping your property value. If you want to enjoy the most beautiful rustic decor around, you can't go wrong with barn doors.
LIVE EDGE COUNTERTOPS
With live edge countertops, your kitchen will scream, "rustic!" Live edge countertops feature the natural curvature that trees produce rather than featuring sharp, manufactured angles. So, with live edge countertops, your home will look just as rustic as they come.
RUSTIC FURNITURE
Of course, all the rustic installations in the world won't help your home pop with rustic charm if the furniture doesn't match up. For an all-around rustic look, get custom rustic furniture. From beds to tables to chairs and all else, anything you could think of can sport a rustic look.
GET YOUR RUSTIC LOOK FROM AN EXPERIENCED CUSTOM COMPANY
If you crave that beautiful rustic look for your home, get your rustic pieces made and installed by an experienced custom cabinet company. And here in the Brentwood area, that company should be MasterWorks Custom Cabinets.
We have the experience and the dedication to quality work to provide high-quality custom-built rustic pieces. With us, your home will sport the best, boldest, and most beautiful rustic look!