Save Space While You Sleep with Bunk Beds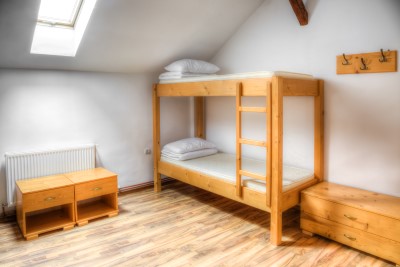 Kids take up space. They all need clothes, toys, electronics, school supplies . . . and a place to sleep, of course. All of this can take up quite a bit of space, and in time, you might struggle to find room to accommodate all of your kids' needs.
However, you're not at a loss to accommodate your kids' needs without struggling for space. For instance, you can save space in their bedrooms with bunk beds! With a bunk bed, your kids can have a place to sleep without taking up extra space in their room.
To get the sturdiest and most beautiful bunk beds for your kids, call MasterWorks Custom Cabinets. With our experience and resources, we can provide the best-custom made bunk bed in the area, guaranteed!
SOLID CRAFTSMANSHIP THAT MAKES A SAFE, RELIABLE BED
When it comes to bunk beds, build quality is everything -- at least for the guy who has to sleep on the bottom bunk. After all, if a bunk bed is built poorly, it could collapse without warning. And if someone is on that lower bunk when that happens -- well, that's a problem!
You can avoid that problem by having us build your bunk bed. We promise to use only the highest-quality materials and most careful craftsmanship as we build your bunk bed, ensuring that the bed will stand strong and keep your kids safe from problems!
A BEAUTIFUL, UNIQUE BUNK BED
Your furniture pieces shouldn't simply serve a purpose. It should also make your home look as beautiful as possible. And with custom-built bunk beds from MasterWorks Custom Cabinets, your home can look every bit that beautiful.
This beauty comes from our promise to use beautiful, high-quality materials for all of our work. We also make your bed based on your specifications, ensuring that you get a bunk bed that is not only beautiful but also one-of-a-kind!
If you want a beautiful, sturdy custom-built bunk bed, call MasterWorks Custom Cabinets today. With our experience, resources, and dedication to quality, we can provide the best custom bunk beds for you so that you can get to saving space while also enjoying a beautiful, personalized piece of furniture!