Should You Follow Current Kitchen Cabinet Design Trends?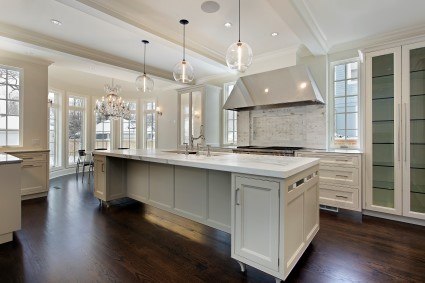 Kitchen renovations often include new cabinets, and many Brentwood homeowners select the same types of materials, designs, and finishes for their new kitchen cabinets. Your cabinet maker knows how important kitchen cabinets are to the overall appearance of a kitchen, and working with your contractor to create custom cabinets that you'll enjoy for many years is worth the effort. Instead of sticking with what you know, consider branching out and taking inspiration from popular designs in kitchen cabinetry right now.
Current Design Trends in Cabinetry
Door Handle Variety – Your cabinet maker will be able to customize your kitchen cabinets and adhere to your requirements, so don't hesitate to suggest unique design ideas, such as nontraditional cabinet door handles. A current trend facing the cabinetry industry, nontraditional door handles can include a variety of shapes, materials, colors, and finishes. Choose leather rings or strips or cut-out holes, such as round holes or long indents at the bottom of cabinet doors, instead of regular handles. If you want a minimalist look, create indents at the base of cabinet doors to eliminate handles altogether.
Two Tones – Why choose one color when you can have two? Homeowners are giving up bland cabinets for two-toned cabinets in complementary shades. This choice involves some big decisions regarding what colors flatter the rest of your kitchen and home and what colors work well together. Your family spends a lot of time in the kitchen, so you'll want colors that everyone enjoys. Pairing bold colors with natural shades makes for beautiful color combinations, so have your cabinet maker paint your kitchen cabinets warm taupe and honeycomb yellow, pewter and mauve, or espresso brown and crimson.
Finishes and Textures – Don't limit yourself to basic textures and finishes because many materials can be incorporated into kitchen cabinetry. Consider designing cabinets that include stone, ceramic, glass, concrete, stone, or metal. Using these materials often increases the cost of your cabinets, but these materials and textures can enhance your kitchen's appearance significantly, whether your interior decorating style is rustic, traditional, industrial, or modern. Additionally, paints and stains are available in various finishes, such as matte and glossy.
Renovating your kitchen is the perfect opportunity to ensure that you have kitchen cabinets that will please your whole household. Consulting with an experienced cabinet maker like MasterWorks Custom Cabinets as you begin designing your new kitchen cabinets for your Brentwood home is a wise decision.