Make Your Old Cabinets Look New Again with a Cabinet Refinishing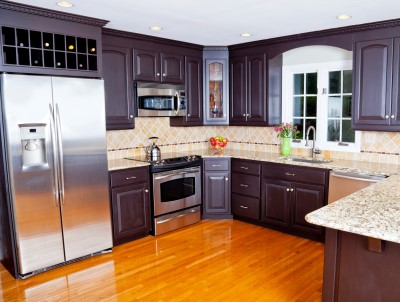 Your kitchen cabinets are where you hide your food and appliances, meaning you'll use them every single day as you prepare your meals. And as you prepare your meals, those very cabinets could face a barrage of accidental food droppings.
So, through the years, it doesn't take much time for your cabinets to look beat-up and unsightly. And once they reach such a state, your kitchen will lose a significant amount of its beauty -- not to mention its value!
If your cabinets are looking worse for wear, don't just accept that unsightly fate. Instead, call MasterWorks Custom Cabinets for a professional, thorough cabinet refinishing today, and we'll get those cabinets looking beautiful and new in no time!
CHEAPER THAN A CABINET REPLACEMENT
As the years and the meals wear on your cabinets, leaving them looking downright bad, you might consider just chunking them and putting new ones in their place. But while that process will give you the beautiful cabinets you want, it does come at a price of upwards of a few thousand dollars.
This price tag might dishearten you as you think your only choice now is to live with dirty, unsightly cabinets. But good news: You CAN get your cabinets to look beautiful and new once more at a price you can afford.
To do that, just call us at MasterWorks Custom Cabinets for a cabinet refinishing. Providing the same beautiful final result that a replacement does but at a much lower cost, a cabinet refinishing will get your kitchen looking great for a great price!
HIGHER PROPERTY VALUE
A beautiful kitchen makes a valuable kitchen, and a valuable kitchen makes a valuable home. And for making your kitchen as beautiful and valuable as can be, call us for an affordable cabinet refinishing.
A cabinet refinishing will make your kitchen look beautiful and new, adding value to it and your home as a whole. It's important to maintain a beautiful kitchen while you live in your home, but when it's time to sell, you'll find that a valuable kitchen is just as important for getting the highest payout for your home!
GET A QUALITY CABINET REFINISHING FROM EXPERIENCED PROS
If you want a professional cabinet refinishing, call MasterWorks Custom Cabinets today. We have the experience, the resources, and the quality guarantee to promise you only the best and most thorough cabinet refinishing your money could buy!